Brought to you by Guardian Home Inspection!
While trends in home decor often change, there is one constant design feature that continues to shine, literally: metals.
Today, homeowners can find creative ways to incorporate a regal touch that produces a timeless look with modern appeal.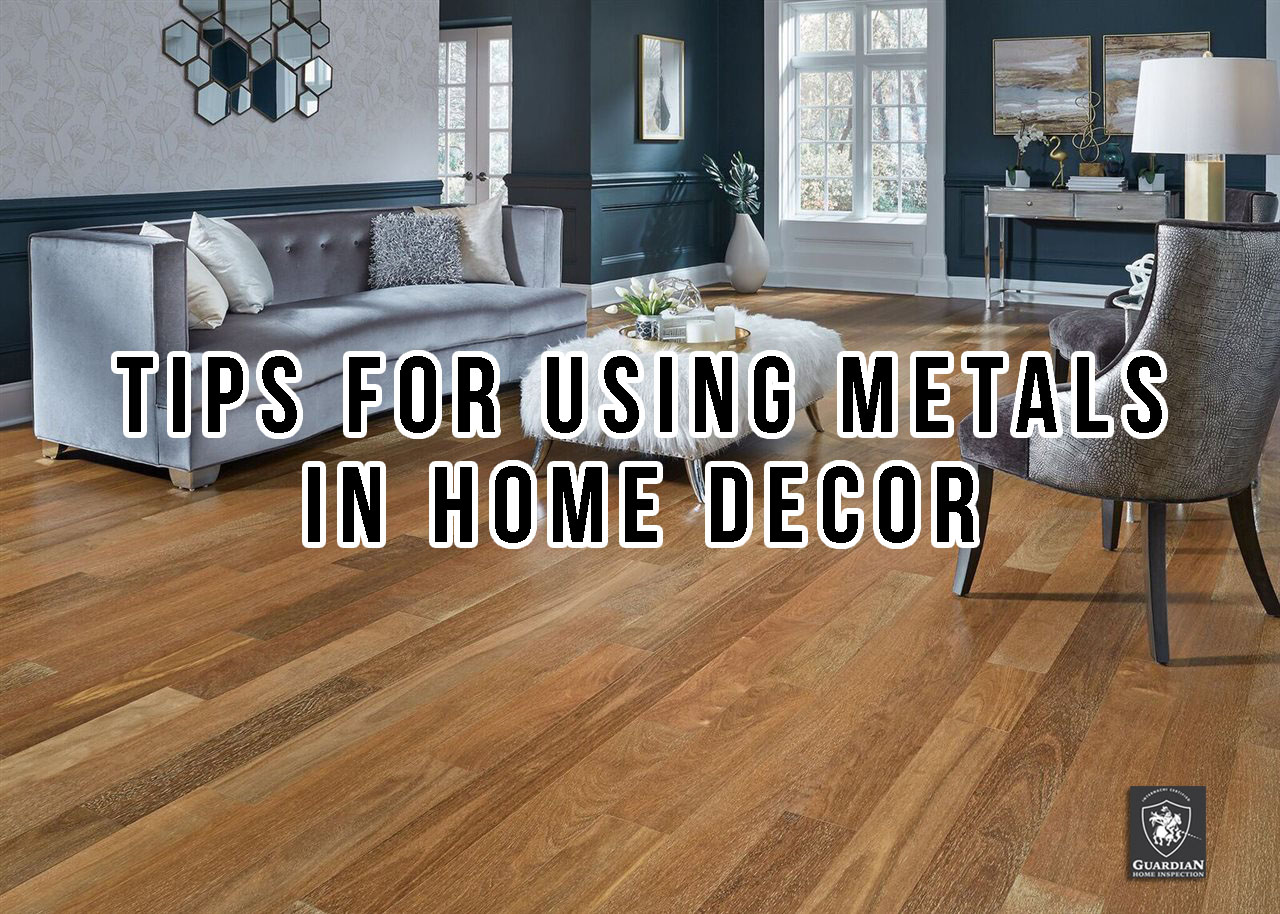 Take the Temperature
A first step in implementing metallic decor is understanding the temperature of the metals. Think of brass, copper and gold as warm, while silver and aluminum are cooler, and cast iron or black metals are neutral. When you couple up a warm metal with a cool metal, you're golden. As a thought starter, step into the kitchen and balance copper or gold fixtures with stainless steel appliances.
Heavy Metal Mixing
It can be daunting to mix metals the right way, but understanding general rules can open the doors to creative approaches. A key tip is to avoid mixing the same color family – such as gold and brass, or nickel and silver. Rather, choose one metal that can serve as the dominant and another to complement it – remembering your temperatures. And, don't be afraid to blend the same metal with different finishings to diversify the theme and pull a room together.
The Gilded Age of Flooring
Achieving the golden look isn't done through metallic finishes alone. One way to bring the shine to a room is with flooring like Lumber Liquidators' Gilded Reserve Chestnut, which reveals hints of a glimmering gold stain through its lightly wirebrushed chestnut base. Pairing decorations and fixtures with the sophisticated backdrop of a unique floor design creates an elegant space that's rich in style.
Add Elements of Luxury
A smart way to use metals is to go for the subtle shine. Simple and strategic touches of metal can bring a big impact, such as in picture frames, drawer pulls or door handles, and sink fixtures. You can also add a bit of regal to a room with accents on furniture or other fabric items such as pillowcases or throws, and kitchenware on display.
A Gold Medal for Metal
Metallics in home decor are as durable and lasting as the elements themselves. Incorporating the shine of brass, the sleek of silvers and the burnish of bronze can give your home an opulent and refined look. – (BPT)
When you or someone you know needs the services of a quality home inspection company, we would truly appreciate you thinking of us. You can schedule right from our website or call our office. Thank You.
Related video you might like:
Guardian Home Inspection will be your home buying or selling advocate! We are committed to providing you with outstanding service. We're highly experienced and extremely thorough, yet have excellent communications skills to be able to put the entire house into perspective for you. If you're looking to buy or sell in the Caldwell, Boise, Meridian, Nampa, Eagle areas, we can help!
Owned and operated by Professional Licensed Inspector, Jason Hopkins, Guardian Home Inspection takes pride in his commitment to following high standards and providing professional service to all of our customers.
Call (208) 254-6460 Today or Click To Schedule Online 24/7 Right From Our Website